02/14/2018
Lucas Metropolitan Housing Authority Partners with Jones Leadership Academy to Create New Mentoring Program
FOR IMMEDIATE RELEASE
Contact:
Debbie Monagan
419-244-7766 office
419-367-9558 cell

Lucas Metropolitan Housing Authority Partners with Jones Leadership Academy to Create New Mentoring Program
TOLEDO, Ohio, Feb. 14, 2018 - Lucas Metropolitan Housing Authority (LMHA) announces a one-on-one mentoring program in partnership with Jones Leadership Academy (JLA) to provide guidance to their graduating seniors. This pilot partnership is an initiative that will deliver a jumpstart for JLA graduating seniors to gain important resources that will help them as they enter into adulthood, college and professional careers.
The initiative was started by LMHA. Each student is assigned a LMHA mentor that they will work with through the remaining school year. The mentor/mentee will meet on a monthly basis and engage in specific developmental activities, along with job shadowing at LMHA.
JLA is a high school with a career-tech focus and business-themed curriculum, including marketing, finance and supply chain management. The school offers small class sizes and separate wings for girls and boys.
"We are thrilled with this exciting new partnership and have had a vision of connecting with the community beyond its residents for awhile now," said Demetria Simpson, President and Chief Executive Officer, LMHA. "We think that mentoring can change lives, and help children to realize their full potential, while teaching the mentor important life lessons at the same time. These positive relationships are a win-win."
About Lucas Metropolitan Housing Authority
Established in 1933, Lucas Metropolitan Housing Authority (LMHA) continues to provide affordable housing to adults, seniors and children in its Public Housing, Housing Choice Voucher, Mixed-Income and market rate housing units. LMHA, also, provides a myriad of programs and opportunities designed to improve the total quality of life for our residents, with the ultimate goal of achieving self-sufficiency. The programs and services are the result of successful collaborations with numerous community partners. Our current housing portfolio consists of 2,701 Public Housing units; 4,366 Housing Choice Vouchers; 32 Low-Income Housing Tax Credit units; 198 Market Rate units; and, 53 Rent-to-Own properties.
About Jones Leadership Academy
Jones Leadership Academy is the place to be for students who envision themselves as future business or community leaders. The school offers a college preparatory program for students in 7th through 12th grades that focuses on college readiness and 21st century skills. Admission is now open for incoming seventh, eighth and ninth grade students from Toledo and surrounding areas.
This High School of Business has a Career Tech focus on a business-themed curriculum that includes marketing, finance and supply chain management. The school offers small class sizes, separate wings for girls and boys, and a full roster of athletics and extracurricular activities, including an award-winning chess team.
Plus, students have the opportunity to earn college credits so they can get a jumpstart on their dreams of working for major corporations or entrepreneurial small businesses.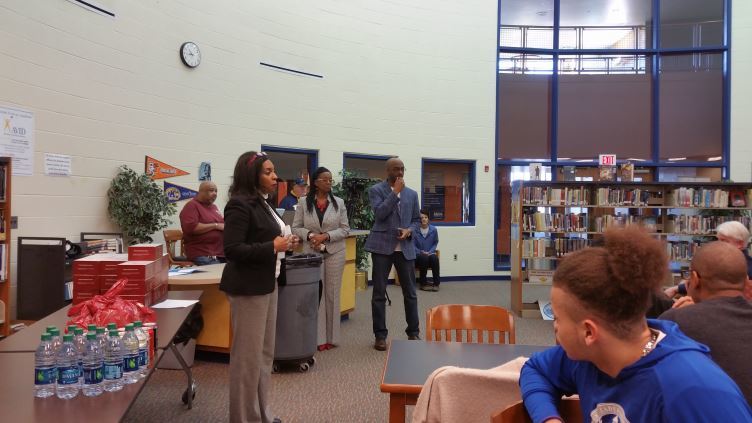 Photo Caption: Demetria Simpson President and CEO of LMHA; Dr. Ward Barnett, principal at JLA; Angela Rivers, Business teacher at JLA.